Welcome Students!
Surgo and 3M Littmann are teaming up to provide Littmann Classic III, Cardiology IV, and Master Cardiology Stethoscopes, along with special offers to assist you with going back to school!
What You Will Receive from Surgo:
Free Laser Engraving

Lowest Price Guarantee

Free Freight on Orders over $100*

*Most Stethoscopes qualify for free shipping based on location, click here to see if you can access free freight!

A Sale on Stethoscope Cases and Charms
What You Will Receive from Littmann:
Free Spare Parts Kit

Free Name Tag

Included in your shipment

Free Learning App Access

Available to download in the App Store and Google Play

Students need to register their stethoscope with a serial number after downloading the app
About Free Engraving:
Due to the popularity and quality of Littmann Stethoscopes, we strongly encourage you to personalize your own Littmann. Personalizing your stethoscope with your name helps protect your investment!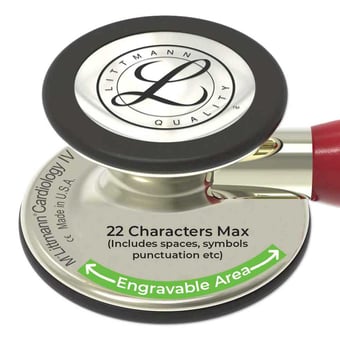 Our Free Engraving features a 22-Character Maximum that includes spaces, symbols, punctuation, and so on. You can enter the engraving information at checkout.
How It Works:
Pick your Stethoscope

Add to Cart

Go to Shopping Cart and Add Engraving Message

Input Credit Card

Checkout



Program Eligibility:
Valid on sales of 3M™ Littmann® Stethoscopes (Classic III™, Cardiology IV™, and Master Cardiology™ Stethoscopes models only) to students registered within Canadian Faculties of Medicine, Faculties of Nursing, EMT, Chiropractors, Respiratory Therapy, Physical Therapy, and all other Allied Health Care Professional Institutions in Canada.

Frequently Asked Questions (FAQ)


Q: What is the warranty period for a Classic III, Cardiology IV, and Master Cardiology Stethoscope?
A: 5 years for the Classic III and 7 years for the Cardiology IV and Master Cardiology Stethoscope.


Q: Is there a difference in acoustic quality between the different finishes of stethoscope models?
A: No - the finishes and colour options are cosmetic only - they do not enhance the quality of the stethoscope.


Q: What is the difference between the Classic III and the Cardiology IV Stethoscope?
A: The key differences between the Classic III and Cardiology IV Stethoscope are that the Classic III is lighter, has single lumen tubing, features a 5-year warranty, and is ideal for non-critical care environments such as medical offices, general ward, OB/GYN, ambulatory clinic, or urgent care. In comparison, the Cardiology IV is heavier, has dual-lumen tubing, includes a 7-year warranty, and is useful in critical care and challenging environments such as the ED, ICU, Cardiac ICU, step-down unit, and other dynamic locations.


Q: What is the difference between the Cardiology IV and the Master Cardiology Stethoscope?
A: The main differences between these two stethoscopes is that the Master Cardiology is heavier, has a higher performance rating, and has a single-sided chest piece that is suitable only for adults. A Cardiology IV has a double-sided chestpiece, allowing it to be used on pediatric and adult patients


Q: Is the Cardiology III still available?
A: No the Cardiology III was discontinued several years ago. The Cardiology IV has replaced it.


Q: Are there other colour options available beyond what is online? Can I mix and match colours and finishes?
A: Unfortunately not. We have all of the available colour schemes on the website. Customization of colours and finishes are not available.


Q: I received the Classic III Stethoscope as a gift, but I'm concerned that I'll need the Cardiology IV Stethoscope instead for my program. Should I purchase a new Stethoscope?
A: The Littmann Classic III Stethoscope is one of the most popular choices for stethoscopes. The Classic III is a high-quality stethoscope that shares similarities with the Cardiology IV. Nonetheless, we recommend that all students inquire about their stethoscope requirements with their instructors before purchasing.
The 3M™ Littmann® Classic III Monitoring Stethoscope combines high acoustic sensitivity with a versatile, two-sided chestpiece for outstanding performance. The Classic III Stethoscope lets clinicians hear different frequency sounds and is ideal for students and medical professionals.
The 3M™ Littmann® Cardiology Stethoscopes provide exceptional sound quality and include dual-lumen tubing and tunable diaphragm technology. With the Cardiology IV and Master Cardiology Stethoscopes, physicians can be confident in diagnosing their patients.
The 3M™ Littmann® Master Cardiology™ Stethoscope features a handcrafted stainless steel chestpiece and is designed for high performance. With a tunable diaphragm, the Master Cardiology Stethoscope has the ability to alternate between high and low-frequency sounds.